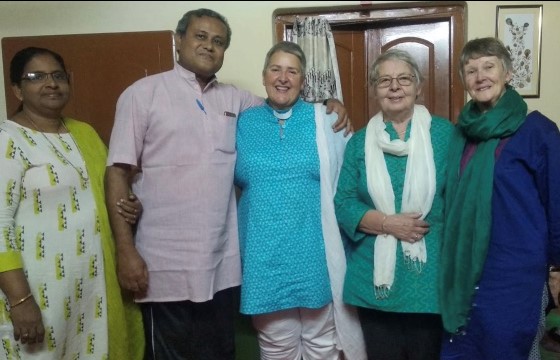 Worship and Pastoral Visiting
During their visit to Palani, Ruth, Bee and Val accompanied Revd John on his pastoral visits, and also attended worship.  Ruth undertook a Bible study and preached at Sunday morning and evening services.  They met with Junior Church and distributed friendship cards from Fleet URC,
This slideshow requires JavaScript.
Photos from Junior Church:
This slideshow requires JavaScript.
During their visit Ruth also assisted Revd John in the dedication of Grace's son, John Heavenson.
---
Visiting Rani and her Family
Through no fault of her own, Rani was forced to withdraw from her nursing training.  Ruth, Bee and Val visited the family while they were in Palani.
This slideshow requires JavaScript.
---
Some of the lovely people they met in Palani:
This slideshow requires JavaScript.
Additional photos:
This slideshow requires JavaScript.
---
At the end of the trip to Palani Ruth, Bee and Val returned to Kerala and revisited Daya Sadan, the Day Centre for disadvantaged children and adults.  They also went to the Janey Orphanage.
This slideshow requires JavaScript.
---
Saying goodbye to good friends at the end of the trip.
This slideshow requires JavaScript.